DOGS
Elon Musk 'appoints' his dog as Twitter director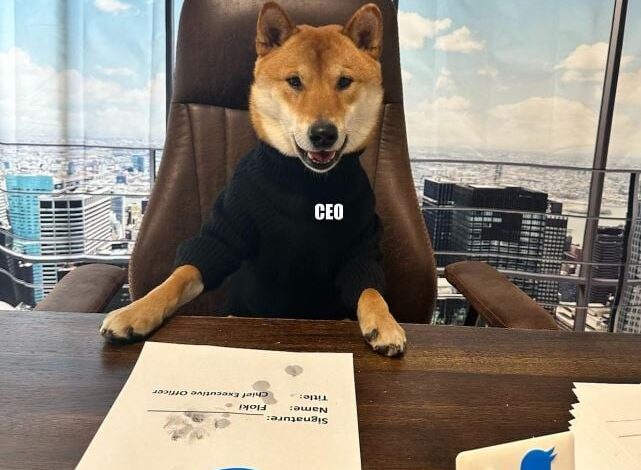 The owner and CEO of Twitter, Elon Musk, made a humorous post on Twitter, posting a photo of his dog and explains that he has appointed his dog as the new director of this social media platform. And in response to the reporters' question, Musk said that later this year would be a good time to find a new Twitter boss, when everything stabilizes on that social media platform.
"The new CEO of Twitter is amazing. So much better than that other guy! He's great with numbers! And has style," the businessman wrote next to the photo. Elon Musk's dog .The photo shows Musk's dog, Floki, sitting at a work desk.The dog is wearing clothes that say "CEO" and there are papers with dog prints on the desk. Musk acquired Floki in 2021.
In December 2022, Elon Musk announced that he would step down as CEO of Twitter when he found someone "stupid enough" for the position. Also, Musk addressed the topic of finding a new director of Twitter during the World Government Summit held in Dubai, which he participated in via video link. When asked if he had found a new Twitter CEO, he said that perhaps the end of 2023 would be a good time to find a new CEO, especially since he expects this social media platform to stabilize by the end of the year.
"I think I need to stabilize the organization and make sure it's financially healthy and the product roadmap is clearly in place," Musk said."I guess towards the end of this year should probably be a good time to find someone else to run the company because I think it should be in a stable position by the end of this year," he added.After buying Twitter in October 2022, Musk laid off two-thirds of the company's employees; at that time the company had more than 7,500 employees, today there are still around 2,300.
In addition, more than half of Twitter's 1,000 major advertisers have left this social media platform. CNN reported that as a result of the departure of these advertisers, Twitter's monthly income from advertising decreased by more than 60% from October to January 25; that is, from about $127 million to $48 million. Previously, Twitter received about $4.5 billion in annual revenue from advertising. According to experts, the main reason for the departure of Twitter's large advertisers is Elon Musk, who personally called the heads of some companies, "scolded" them, and had conflicts with them.